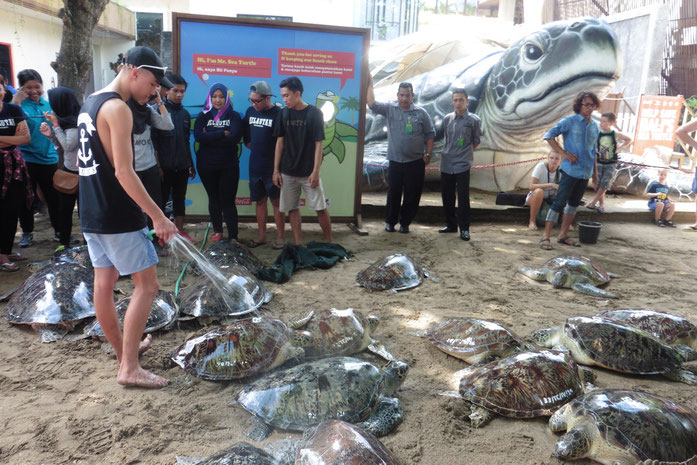 Bali - on April  14th 2016 Marine Police of Police department Bali, Turtle Conservation And Education Center ( TCEC ) Serangan Bali. Veterinary faculty  and Marine faculty of Udayana university, released back  31 green giant sea turtle at Kuta beach Bali. the 31 green sea turtles constituted  of 40 were failing trade and arrested by marine police of  police department Bali on April 6 2016 in Kubu, Karangasem Bali.
after intensify  recovered treatment  by TCEC team 34 green sea turtle  have a ready to release back into wild live, but 3 of them stay in TCEC as  a law proceed. 31  release back in wild
 Turtle Conservation And EducationThe Center( TCEC) opened by the governors of Bali, Mr Dewa Beratha (20 January 2006) On Serangan island of Bali .TCEC is developed as part of the Comprehensive strategy to eradicate illegal turtle trading on the island .Established on a land of 2.4 ha, the TCEC is trying to support the community of Serangan to  find the alternative beside illegal turtle business. The center harness the potential education, tourism, conservation and research with a liberal sprinkling of business to give endangered turtles one more chance on Serangan. TCEC is supported by WWF, Governor Bali, the major of Denpasar, municipality authorities, the Provincial Nature Resource Conservation Agency and the local community.
The four fundamental aspects to the center including putting a definitive end to turtle trade, by encouraging the public not to consume the turtle products (religious use or otherwise) and to support turtle Conservation in general; providing turtles for rituals without their killing and monitoring turtle size and number, so that their use can be strictly controlled and regulated; offering employment opportunities for locasl from Serangan; and finally acting as watchdog for turtle trade - in Serangan in particular and Bali in general.
www.tcecserangan. jimdo.com