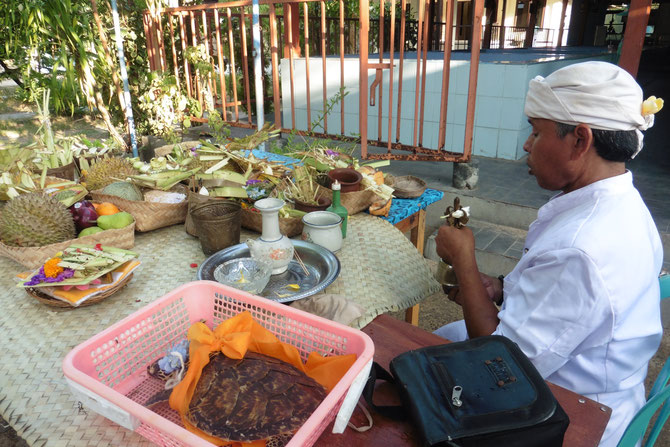 TCEC - on April 2016 celebration animal day at Turtle Conservation And Education Center had turtle blessed by monk. Bali island know as tourism destination, most of people are Hindusm , rich by local tradition  culture, island of thousand temple, island of god. Which traditional keep well by local Balinese . many tradition event held in island, depend  calculating by traditional Balinese Calendar. Need to know the ceremony event dedicate for animal that call Tumpek Kandang
        Tumpek kandang or Tumpek Wewalungan or  Tumpek Uye constitute ceremonial of animals, pet , livestock. About Tumpek kandang , according manuscript of Sundarigama said ;
         Saniscara Kliwon Uye pinaka prakertining sarwa sato
Its mean; every Saniscara Kliwon Uye ( Balinese day by tradition Calendar ) should be in make poles to preserve animals.
Tumpek Kandang are saving animal day of pet, Livestock and wild animal, other  celebration day on calendar dedicate  to tree day, metal or day etc
 Why do Balinese celebration animal day? have many question of other people out from Bali . in real of Balinese religion ( Hindusm ) teach love of awareness to all nature creating and teach respecting not just to human being, but respect to animals, tree ,and all creature .on Balinese believe that nature have soul of god .
According manuscript Sarascamuscaya ;
  Ayuwa tan masih ring sarwa prani, apan prani ngaran prana.
Meaning ; Don't be un love to animal .cause  the animal or creature are force of nature