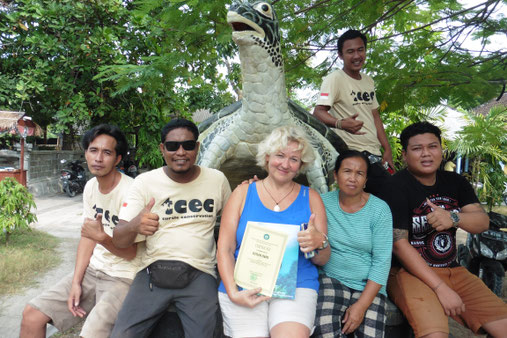 Bali - During spring season in Europa Svetlana Elkina from Rusia  spend a vacation while she doing volunteering in Bali during April 19 to May 7 2016 to help TCEC ( Turtle Conservation and education Center ) she was join us to  serve our  injure  turtle in TCEC Serangan - Bali. hard worked by Svetlana motivate crews to do more preserve injure turtle, it  were great time with her in cooperating while share experience  turtle, with activities treatment injure turtle, cleaning tank, turtle release. she had been work at turtle conservation at Srilangka. great day were passing together with crews of TCEC, had new experience in cooperation with her, great thank and wonder full day, see you in next change and keep save sea turtle
Turtle Conservation And EducationThe Center( TCEC) opened by the governors of Bali, Mr Dewa Beratha (20 January 2006) On Serangan island of Bali .TCEC is developed as part of the Comprehensive strategy to eradicate illegal turtle trading on the island .Established on a land of 2.4 ha, the TCEC is trying to support the community of Serangan to  find the alternative beside illegal turtle business. The center harness the potential education, tourism, conservation and research with a liberal sprinkling of business to give endangered turtles one more chance on Serangan. TCEC is supported by WWF, Governor Bali, the major of Denpasar, municipality authorities, the Provincial Nature Resource Conservation Agency and the local community.
The four fundamental aspects to the center including putting a definitive end to turtle trade, by encouraging the public not to consume the turtle products (religious use or otherwise) and to support turtle Conservation in general; providing turtles for rituals without their killing and monitoring turtle size and number, so that their use can be strictly controlled and regulated; offering employment opportunities for locasl from Serangan; and finally acting as watchdog for turtle trade - in Serangan in particular and Bali in general.
report by Eddy